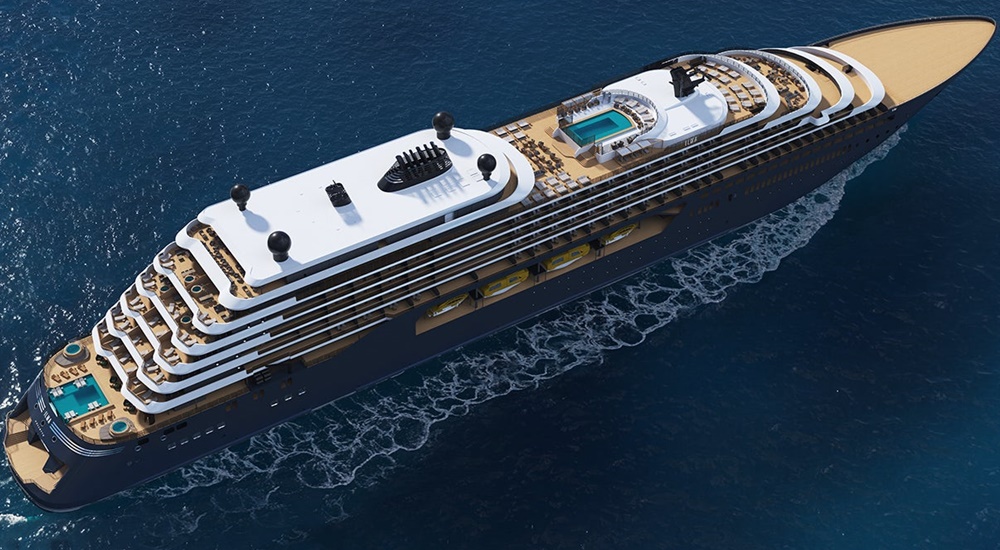 02 Oct

Ritz-Carlton Yacht Collection Celebrates Launch of Second Yacht, ILMA

The Ritz-Carlton Yacht Collection marked a significant construction milestone with the successful float out of its next superyacht, Ilma, at Chantiers de l'Atlantique shipyard in Saint-Nazaire, France.


This traditional maritime celebration brought together senior leadership and shipbuilders in anticipation of Ilma touching water for the first time, signifying the commencement of its next phase of construction in preparation for its maiden voyage in 2024.


The float out event was attended by company leadership from The Ritz-Carlton Yacht Collection including Jim Murren, Executive Chairman and CEO, and Ernesto Fara, President and CFO. Also present were representatives from Chantiers de l'Atlantique, including Laurent Castaing, General Manager, and Arnaud Le Joncour, Senior Vice President of Sales and Marketing. 

As part of the float out, the yacht's dry dock was filled with water overnight, then moved to an outfitting dock where it will remain for the rest of its build leading to sea trials in April and start of its first season. Now afloat, final-stage construction will focus on completing interiors, fixtures, and fittings for suites, restaurants, and other public spaces that will welcome guests to experience a new journey of discovery at sea in just less than a year.

"As we celebrate this remarkable milestone, we are immensely proud of the dedication and craftsmanship by all those involved in the construction of Ilma," remarked Jim Murren. "We are thrilled to have partnered with the team at Chantiers de l'Atlantique and are excited to enter the next stage of construction and outfitting in anticipation of the yacht's inaugural journey next year, expanding our fleet and vision within the ultra-luxury space."

Ilma, meaning "water" in Maltese, will be the second new build super-yacht from The Ritz-Carlton Yacht Collection. Measuring 790-feet, the yacht will feature 224 airy, light-filled suites, all with private terraces, and will accommodate up to 448 passengers.  Paving the way for a new era of cruising, this brand extension introduces an entirely unique experience at sea, illustrating the ongoing commitment to innovative luxury travel experiences from The Ritz-Carlton. Ilma will offer expansive public spaces and will have one of the highest space ratios at sea, ensuring an exceptional journey.

The onboard experience will reflect the unparalleled lifestyle and legendary service for which The Ritz-Carlton brand is recognized, including state-of-the-art technology, five distinct dining venues, and a Ritz-Carlton Spa®. Delivering thoughtfully curated itineraries and unforgettable journeys for guests, Ilma will join the company's first yacht Evrima in visiting the most coveted destinations in the Mediterranean and Caribbean, with select ports of call in Central America and South America, depending on the season.

The yacht's sleek and graceful exterior design, expertly crafted by Helsinki-based design studio Aivan, draws inspiration from the elegant aesthetics of private yacht design. Interiors will seamlessly blend warmth and sophistication with a relaxed atmosphere, showcasing modern craftsmanship and interior finishes imagined by AD Associates, a renowned London-based architectural and design firm, and award-winning lighting designer, DPA.

"We are thrilled to witness Ilma's float out. Ilma embodies Chantiers de l'Atlantique's dedication to ultra-luxury," expressed Arnaud Le Joncour. "This milestone marks the beginning of the next construction phase of outfitting. Drawing inspiration from Ilma's elegance, clean lines, and unique features, our teams are united in the pursuit of meeting the expectations of today's most discerning luxury travelers."

Reservations for Ilma and Evrima are currently open, and the super-yachts are also available for private charter.